Description
Diablo Sport inTune I1000 for 2011 and Newer Vehicles.
Powerful programming ability in the palm of your hand. Tune Chrysler, GM, and Ford cars and trucks for increased horsepower, torque, and drivability on an
easy to use color touch screen, for power you can FEEL!
Specifications
Small and light weight tuner. The tuner is smaller than most smart phones and about the size of an MP3 player.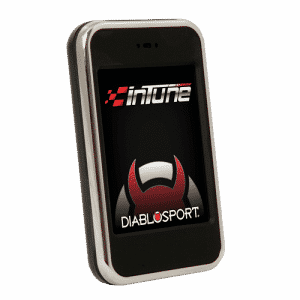 Full color touch screen. Follow the instructions and use the color touch screen to easily program your vehicle.
The inTune updates automatically via the provided USB cable and internet connection on a PC.
Record up to 30 minutes of high speed OBD-II Parameter data on your inTune, or stream it to your PC or Laptop.
5 volt input. The input allows you to hook up several aftermarket accessories like wide band O2 sensors.
Holds up to 5 custom tunes.
Diagnostic Trouble Code Reader. Read trouble codes with a detailed description without ever having to visit a repair shop.